WHY DO I NEED THIS?
New Seamless Sports Bra – AVAILABLE NOW! Upon popular request, ladies have requested larger size sports bra that will actually support plus size women.
 Like most of us we all work long hours and we just want to be more comfortable in our every day clothes or even a night out with some friends. As women, our bodies go through never-ending changes. They tell the stories of our lives like becoming a mother, growing wiser, in our busy lives.
Seamless Body Shaper allows you to build more confidence while shaping, toning, and lifting all the desired areas. 100% Full ALL DAY comfort, posture correction, seamless soft straps, full support, and full control.
FEEL THE DIFFERENCE IN SUPPORT
Look and feel the difference.
Our Seamless Material will make you feel and look great!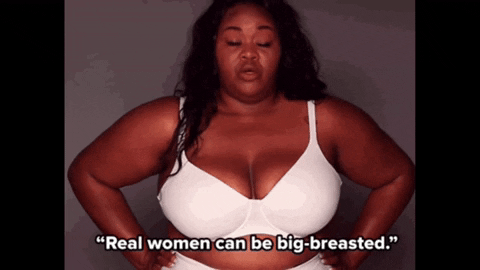 " It's very hard to find supportive sports bras that fit me right simply because my waist is small (32) with DDD boobs, so anything that fits tight enough at the waist is going to be spilling over at the top. However, this sports bra offers great support and compression and at least halfway decent coverage for me compared to many other sports bras. It's thin ad light almost like you aren't wearing anything. Highly recommend unless you are small waisted with a big chest and looking for more coverage." – Tamika D. Atlanta,GA
FREQUENTLY ASKED QUESTIONS
Question: Where is this shipped from?
Answer: All items are shipped from the USA
Question: Is this sports bra really good for support?
Answer: Yes! Our Seamless Sports Bra has Spandex Support Fabric!
Question:  I'm large in my chest and I wanted to start excising, can this sports bra be worn when I start exercising ?
Answer: We excurage it! A lot of women like our Seamless Material during their workout..
Question: What size is right for me?
Answer: Please refer to our Sizing Guide above before buying if you are unsure.
Question: I hate my straps now with my bra's, how are the straps on this yours?
Answer: Very soft but, they provide full support so your not adjusting your as bra as often throughout the day
Question: How do I wash it?
Answer: Yes! We would recommend to air dry.
Question: Does it make my breast look flat?
Answer: Not at all, it actually enhances your natural curves in your chest area.
Question: I am in between sizes. What size should I order?
Answer: You should always purchase a size up.
Question: Does it hide my side boobs?
Answer: Yes, it does cover it very effectively.
Question: Items that are on "Backorder", how long until I get it?
Answer: 3-4 Weeks for USA customers.
Question: Can I wear them all day during my workouts?
Answer: Yes, you can comfortably wear it all day, every day as our Seamless Sports Bra is made of extremely breathable material!

Try seamless body shaper completely risk-free
Try the Seamless Sports Bra completely risk-free for 30-days. If for whatever reason you decide you aren't satisfied, contact our helpful customer support within 30 days of receiving your order and we'll refund you,
no question asked!